Local Flair
Stay in the Center of It All.
Bustling, buzzing and brilliantly colourful – open your eyes to all that is Bangkok. Among the world's top international travel destinations, the city delightfully displays a mix of old and new, of history and modernity, with a vibrant pop of exotic appeal. And Sukhumvit is its pounding pulse for fashion, shopping, entertainment, parties, nightlife, hospitals and business.
Plus, it's simple logic: Walking to a place means you'll have more money to spend when you get there. Unlike other Bangkok hotels, Dream is only a short (and very do-able) walking distance from shopping centers and public transportation stations like the Asoke BTS Sky Train and MRT Metro station.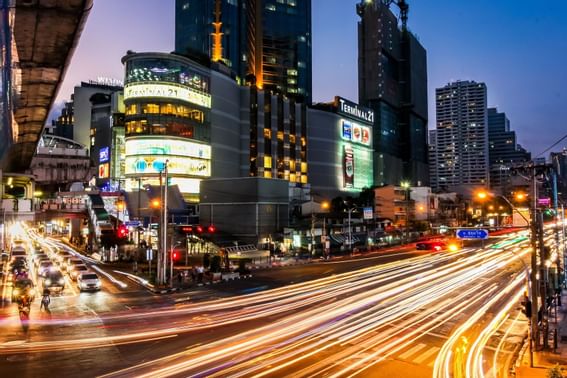 Shopping
Terminal 21 Shopping Center – 500 m/7 min.
Sukhumvit Street Market – 300 m/5 min.
The Emporium Shopping Center –1.9 km/15 min.
EmQuartier Shopping Center –1.9 km/15 min
Central Embassy Shopping Center –5.9 km/15
Emporium Bangkok Shopping Center – 1.9 km/15 min.
Central Embassy Shopping Center – 5.9 km/15 min.
Central World Shopping Center – 3.1 km/20 min.
Siam Square – 3.9 km/22 min.
Siam Paragon Shopping Center – 3.9 km/22 min.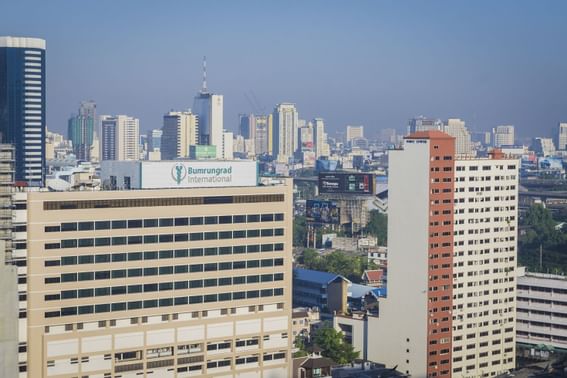 Medical & Wellness
Located in the center of major international hospitals in Bangkok
Bumrungrad Hospital – 1.0 km
Rutnin Eye Hospital – 1.0 km
BDMS Wellness Clinic – 2.0 km
Samitivej Sukhumvit Hospital –3.5 km
Bangkok Hospital –3.7 km
Events
In a destination where traditional festivals and celebrations are essential to a complete understanding of the local culture, many of these events and venues are a must-see if you can time your travel dates accordingly.
Festivals & Holidays
Songkran Festival (April)
Moon Festival (September)
Vegetarian Festival (October)
King Chulalongkorn Memorial Day (October)
Loy Krathong and the Golden Mount Fair (November)
New Year's Celebrations (December/January)
Four-Face Buddha (Year-round)
Event Venues
Queen Sirikit National Convention Center (QSNCC) – 5 min. or 1 MRT station
Centara Grand Convention Center – 10 min. or 3 BTS stations
Paragon Hall – 10 min. or 4 BTS stations
BITEC Bangkok International Trade & Exhibition Centre –12.6 km/25 min. by car.
Local Attractions
Chatuchak Market – 12 km/35 min.
Asiatique The Riverfront – 13 km/35 min.
Siam Ocean World – 3.9 km/22 min.
Grand Palace – 12 km/34 min.
Temple of the Dawn (Wat Arun) – 17 km/40 min.
The Temple of the Emerald Buddha (Wat Phra Kaew) – 12 km/34 min.
Wat Pho and the Reclining Buddha – 12 km/34 min.