Contact
All Talk. All Action.
Need more information? Have questions about an upcoming stay or comments about a recent one? Praise for what a great job we're doing or gripes about where we can do better? Whatever you've got on your mind, we're ready to listen.
Contact Information
Dream New York Downtown
355 W 16th Street
New York, NY 10011
Dream Downtown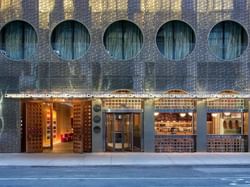 NYC, NEW YORK
Assertively modern and obsessively service-oriented, this property honors its 1960s maritime roots with an aquatic mise-en-scène, featuring unexpected touches, like a glass-bottomed pool in the ceiling, a sandy beach, and porthole views of the Empire State Building. From the celeb haunt rooftop lounge to all the walking distance action at The Highline, Chelsea, Union Square and the West Village, the scene is decidedly stylish.