Contact
Always Speak Your Mind.
Great relationships always start with clear communications and the free exchange of ideas. To that end, we always love receiving questions, comments and feedback from our guests.
Contact Information
Dream Nashville
210 4th Avenue North
Nashville, TN 37219
Dream Nashville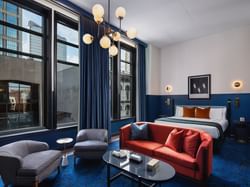 NASHVILLE, TENNESSEE
In partnership with local Nashville developers and award-winning interior design firm Meyer Davis Studio, Dream Nashville reimagines two historic landmarked buildings steeped in a rich and colorful heritage while maintaining the celebrated history of Printer's Alley. Dream Nashville boasts 168 art deco-inspired rooms with high ceilings and sleek finishes along with six exciting dining and nightlife options.